What is the Point of Hiking Pants, Trekking Trousers & Mountain Trousers?
Well, put simply, the reason for wearing hiking pants is staying alive! It's also about being comfortable and moving easily.  People have died from exposure because they wore inappropriate clothing, in particular because they wore trekking trousers made from cotton such as cotton denim jeans or cotton chinos for example.  Exposure and hypothermia isn't just a potential problem on top of a mountain in Scotland.  If you're wearing the wrong gear and the weather deteriorates it can become a problem on a casual lowland walk in Derbyshire and not just in winter either!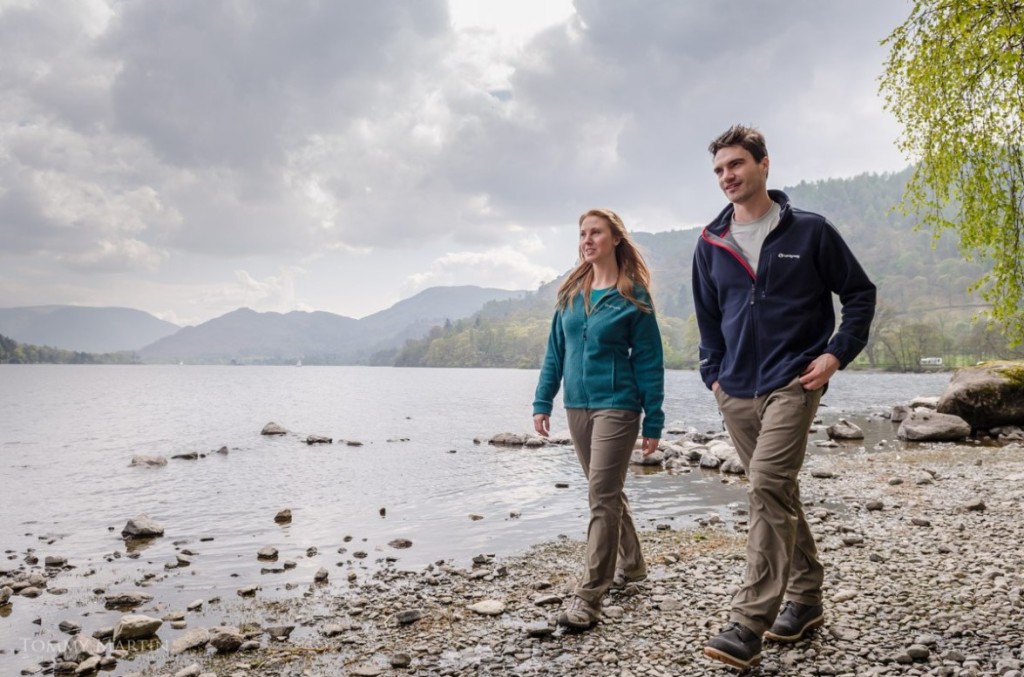 With 18 years of experience in Outdoor Clothing and Equipment, Agoora Outdoor are well equipped to give high quality advice on both hiking pants for women and men.
Cotton soaks up moisture and holds onto it, so it dries very slowly.  This is great for making towels but no good for making clothing such as trekking trousers and t-shirts which are going to be used for outdoor activities.  When out hill walking your clothing will get wet from rain, perspiration and perhaps fording a stream.  This is when the problems start if your wearing cotton.  Wet clothing is very bad at insulation, in fact, wearing a pair of wet cotton jeans is possibly worse than being naked. Then, if the wind picks up and the air temperature drops you can find yourself in a situation where you are losing heat faster than your body can generate it.  This results in hypothermia and in some cases, death.

Nylon and polyester are great fabrics for hiking pants because they are lightweight, hard wearing, repel water and dry quickly.  They quickly wick away moisture throughout the fabric, thereby increasing the surface area available for evaporation.  A dry fabric is a warm fabric so once dry these materials help to keep you comfortable.  (Some hiking pants are made from a blend of let's say 70% polyester and 30% cotton, the less cotton, the better.)

These synthetic, fast wicking materials help to regulate body temperature because when you're working hard in hot conditions, your trouser fabric wicks away perspiration to the surface where it evaporates to provide cooling.  Then, later in the day, after exercise and as the sun goes down so the air temperature drops, the fact that your trouser fabric is dry helps to provide insulation to keep you warm.

Wet cotton jeans stick to your legs and feel cold and uncomfortable, they also restrict leg movement so you have to work harder to cover less distance in a longer time.  Wet cotton jeans are also very heavy so your performance is dismal compared to someone wearing lightweight, fast wicking hiking pants.  If you take two people with the same strength and fitness, the one wearing lightweight trekking trousers will easily outperform the one wearing heavy denim jeans.

The wind is also a factor, the best quality mountain trousers are made with tightly woven synthetic fibres which stop the wind.  This helps to keep you nice and comfortable.  When mountain climbing, the higher you go, the stronger the wind and the cooler the temperature so wearing the right clothing becomes increasingly important.
Breathability is also important.  A breathable fabric allows hot moist vapour from your perspiring body to pass through to the outside so you can stay dry and comfortable.  Wet fabrics can't breath so it's important to wear mountain trousers made from materials which dry quickly.

The best hiking pants are made from stretch fabric, so the fabric blend will typically be something like 95% nylon and 5% elastane, spandex or Lycra.  This permits easy, high stepping movements over rough terrain and boulders.

Weight is also a critical factor.  A typical pair of trekking trousers weighs 425 gm for size large including the belt whilst a pair of jeans weighs 732 gm for size large and that's without the belt.  Travelling light enables you to go further, faster and for longer. The weight difference increases dramatically when you add water.

Mountain trousers win again with regard to robustness and longevity.  Many have reinforced knees and seats plus extra stitching in important places.  Also, in addition to this, the nylon and polyester fabrics used are harder wearing than cotton.  In some cases, rip stop fabrics are also used, so if you get caught on some barbed wire, the tear is kept to a minimum.

Next, we have the DWR (Durable Water Repellent) finish which is applied to the surface of most outdoor pants.  This ensures that rainwater beads up and runs off thereby stopping the fabric from wetting out to give maximum breathability.  However, heavy rainfall will penetrate the DWR and the fabric will wet out until the heavy rain passes and the rapid drying out process begins so that comfort can be quickly restored.

Most mountain trousers have a high sun protection factor which can be say UPF 50+ to protect you from sunburn when trekking in exposed positions.

So, for prolonged comfort when "floating" over hill and dale we recommend hiking pants for maximum enjoyment, a great day out and peace of mind if the weather takes a turn for the worse. To view our walking trousers online, take a look at these links: